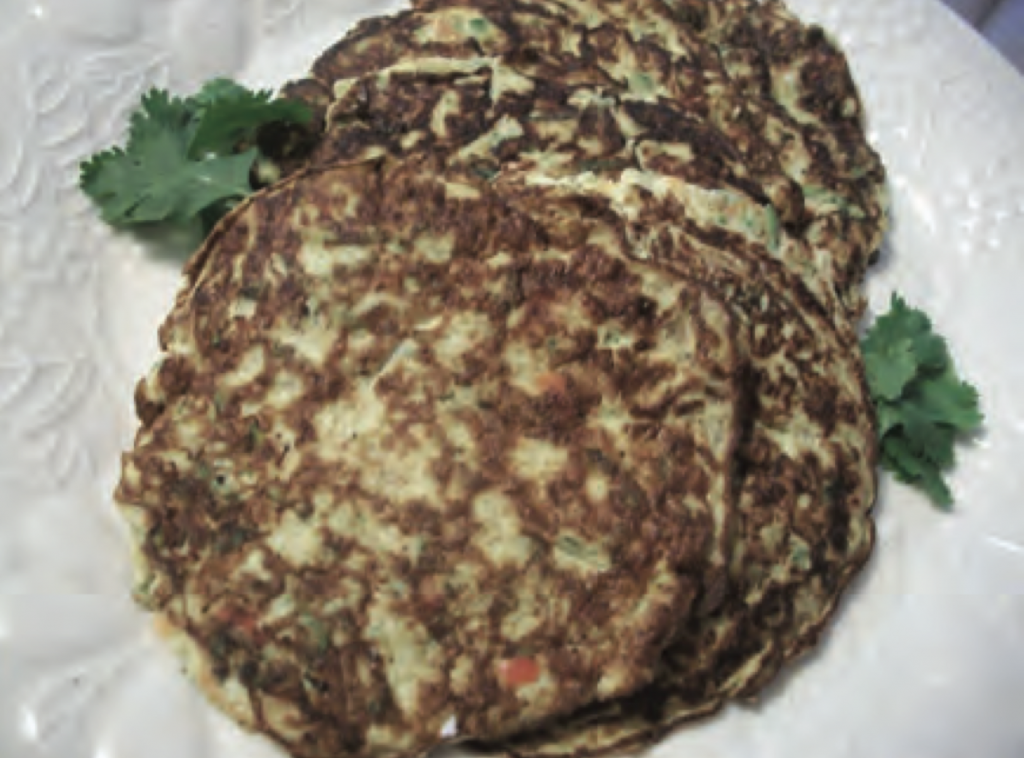 INGREDIENTS
– 2 whole eggs (2/3 Lean)
– 4 egg whites (1/3 Lean)
– 1 cup zucchini, grated (2 Greens)
– 1/2 cup red peppers, chopped (1 Green)
– 1 tbsp onion, thinly sliced (1 Condiment)
– 1 tsp olive oil (1 Healthy Fat)
– 1/4 tsp freshly ground pepper (1/2 Condiment)
– 1/4 tsp onion powder (1/2 Condiment) – 1/8 tsp garlic powder (1/4 Condiment)
– 1/8 tsp salt (1/2 Condiment)
DIRECTIONS:
Grate zucchini; add onion, garlic powder, black pepper, onion powder, salt, whole eggs and egg whites. Heat olive oil in a small skillet over medium-high heat. Drop 2-3 tbsp of mixture (per zucchini fritter) into warm skillet. When brown on one side, turn and cook the other side. Stack on an oven- safe plate or dish and keep in warm oven until whole batch is done.
Lean & Green
Makes 1 Serving. Per serving – 1 Lean, 3 Greens, 3 Condiments and 1 Healthy Fat
Healthy Deviled Eggs
INGREDIENTS
– 6 hard boiled eggs, peeled and cut lengthwise – 1/4 C plain Greek yogurt
– 2 tsp dijon mustard
– 1/4 tsp pepper
– 1/8 tsp salt Paprika to garnish
DIRECTIONS:
If you haven't yet, boil, peel, then slice eggs in
half lengthwise, and carefully remove yolks. Mix yolks with yogurt (or mayo). Add mustard, salt, and pepper; stir well. Spoon yolk mixture into egg whites. Garnish, if desired.
Lean & Green
Makes 2 Servings. Per serving – 1 lean, 3 condiments (using 1 tbsp light mayo as 2 condiments since we don't get a healthy fat with whole eggs).