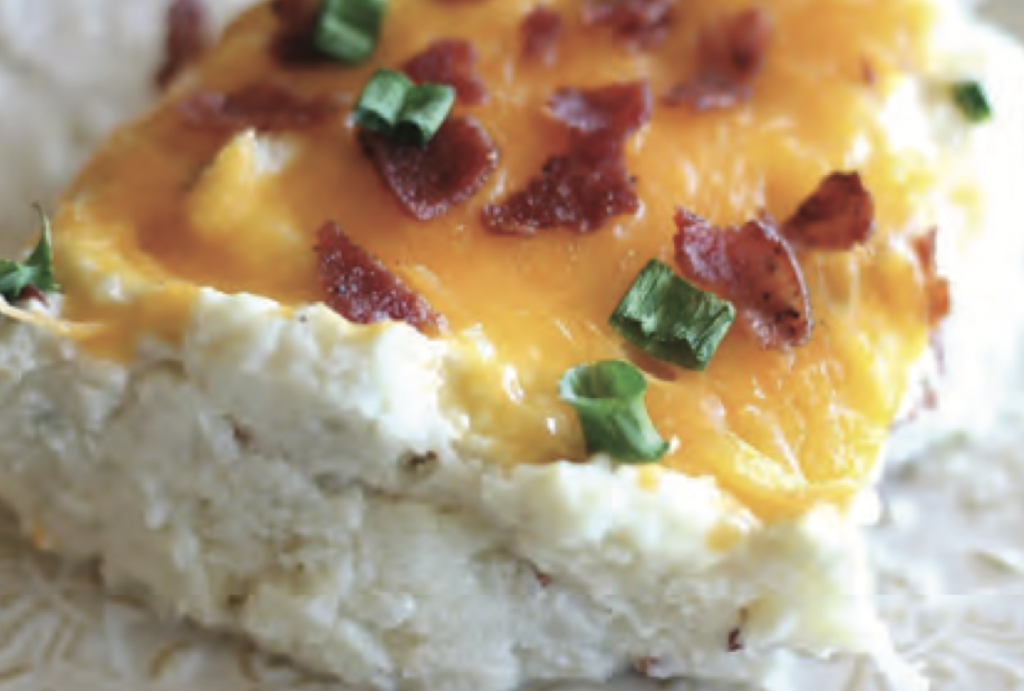 INGREDIENTS
– 4 cups cauliflower florets
– 3 ounces reduced fat cream cheese, cubed
– 1/2 cup sour cream
– 1/4 cup green onion, sliced
– 1/4 cup Kraft reduced fat parmesan cheese
– 6 slices turkey bacon, cooked and crumbled
– 1 cup reduced fat sharp cheddar cheese, divided
DIRECTIONS:
Preheat oven to 350 degrees.
Lightly spray a glass casserole dish with non-stick cooking spray.
Place cauliflower in a large pot of boiling water and cook until cauliflower is tender. Drain well and mash with potato masher, leaving some chunks.
Add 3/4 of the bacon, green onions, cream cheese, sour cream, 1/2 cup cheddar cheese and Parmesan to the mashed cauliflower.
Spread mixture evenly in a small glass casserole dish.
Sprinkle with remaining 1/2 cup of cheddar cheese and reserved bacon. Bake 20 minutes covered or until hot and bubbly.
Remove the lid and bake an additional 5 minutes or until cheese has melted. Serve warm.
*This reheats very well and can be frozen and thawed in the fridge, then reheated.
Lean & Green
Makes 4 Servings. Per serving – 1/4 Lean, 2 Greens, and 3 Condiments
Serve this side dish with an additional Green and 3/4 Lean such as: – 3.75 ounces of 93% ground beef, steak, or pork
– 4.5 ounces of grilled chicken breasts
– 5.25 ounces shrimp, tilapia or 99% ground turkey