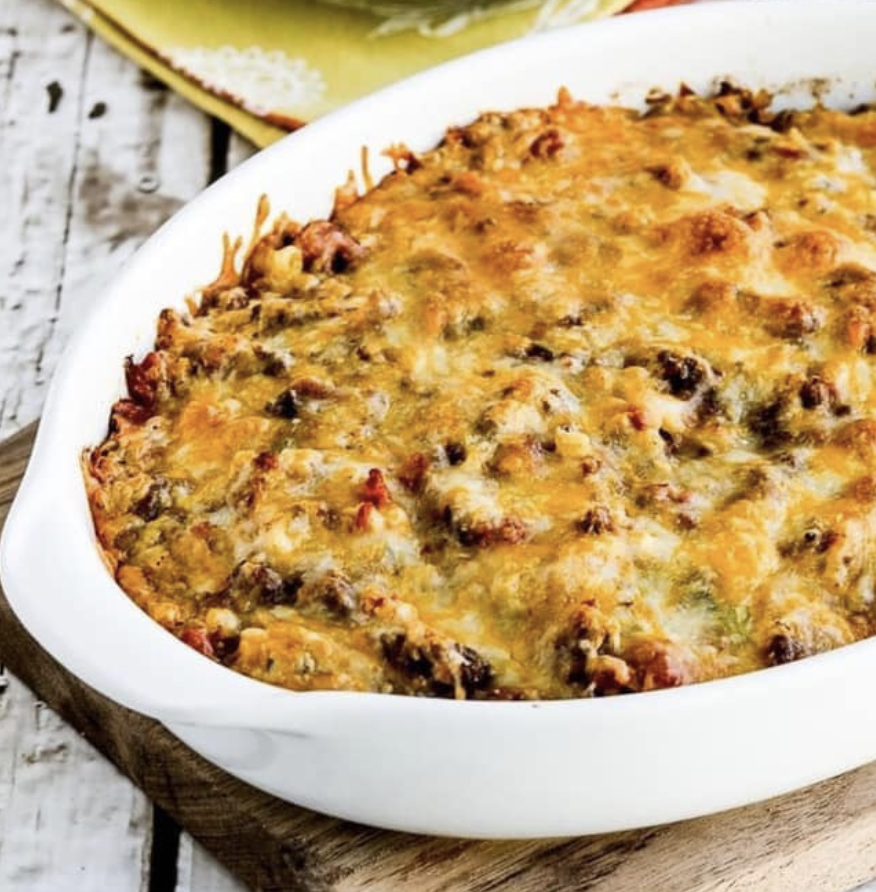 Makes 8 servings
Per Serving: 1 lean, 1⁄2 green, 3 condiments
Ingredients
Crust
• 8 tbsp or 1/2 cup reduced fat cream
cheese, softened (8 Condiments)
• 1/4 cup egg beaters (0.125 Lean)
• 5 tbsp Fat free half and half
(5 Condiments)
• 1/2 teaspoon taco seasoning
(.25 Condiment)
• 8 ounces low fat Mexican cheese
blend, shredded (2 Lean)
Topping
• 24.37 ounces 93% fat free Jennie-O
ground turkey, cooked (4.875 Lean)
• 4 teaspoons taco seasoning
(2 Condiments)
• 1 cup tomato puree – tomatoes
chopped then pureed to equal 1 cup
(4 Greens)
• 4 ounces chopped green chilies
(8 Condiments)
• 4 ounces Mexican cheese blend,
shredded (1 Lean)
Directions
For the crust, beat the cream cheese and eggs until smooth.
Add the cream and seasoning. Grease a 9"x13" baking dish;
spread the cheese over the bottom. Pour in the egg mix-
ture as evenly as possible. Bake at 375oF, 25-30 minutes. Let
stand 5 minutes before adding the topping.
For the topping, brown the hamburger; drain fat. Stir in the
seasoning, tomato sauce and chilies. Spread over the crust.
Top with cheese. Reduce oven to 350oF and bake another 20
minutes or so until hot and bubbly.
Serve with your favorite veggies to finish out the Lean &
Green!