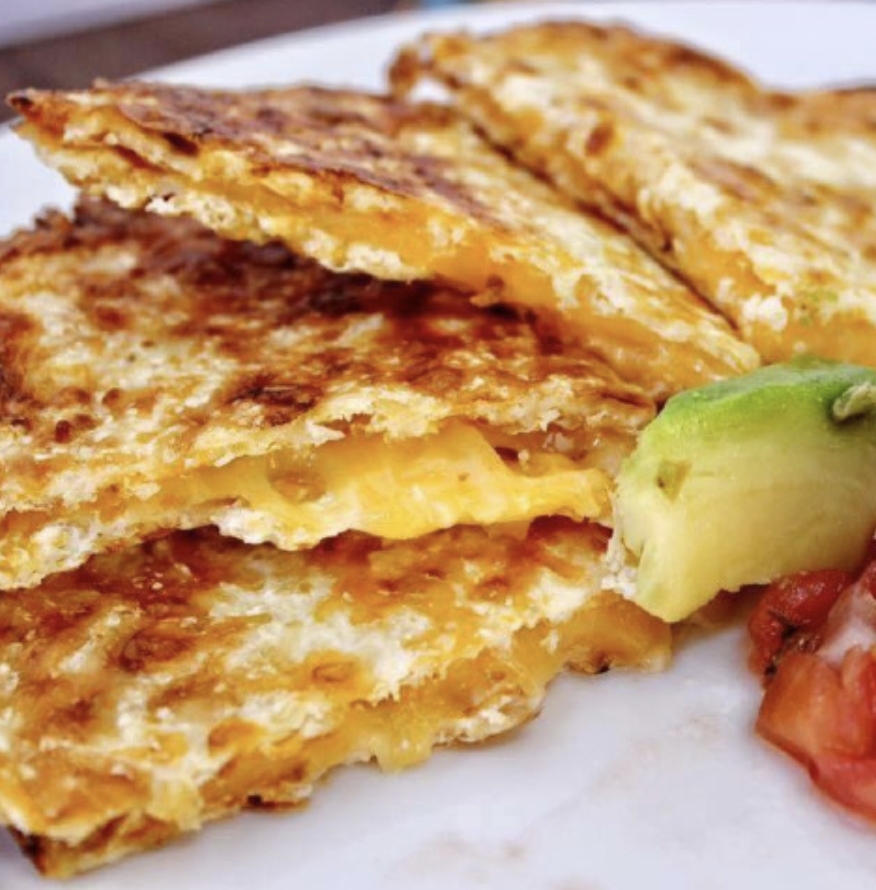 (1.33 Green) 2 cups or 200 oz of grated raw cauliflower
(.25 Lean) 1/2 cup of egg beaters or egg whites
(1.75 Lean) 7 oz (~1.5 cups) of 2% reduced fat three cheese mexican blend
(.66 Green) 1 cup of diced tomatoes
Ingredients
• 2 cups or 200 oz of grated raw cauliflower
• 1/2 cup of egg beaters or egg whites (no yolks)
• 7 oz of 2% reduced fat three cheese mexican blend (~1.5 cups)
Salsa
• 1 cup of diced tomatoes
• 1/2 cup of minced fresh cilantro
• 4 tsp of chopped white onions
• 4 tsp of lime juice
• 1/4 tsp of sea salt
• 1/4 tsp of ground cumin
• 1/4 tsp of ground cayenne
Directions
Preheat oven to 425F (218C).
Grate the cauliflower with a cheese grater or place into the blender (pulse
for for 10-15sec) until it's the size of a piece of rice or smaller.
Squeeze out excess water from the cauliflower using a cheese cloth.
Combine grated cauliflower, 1/2 cup of egg whites, and 4 oz (~1 cup) of
cheese until mixed completely.
Flatten out the mixture into 4 tortillas about 6′′ wide each; the thinner
the tortilla, the more evenly these pieces will bake; discard any excess water
that's in your mixture.
Bake for 15 minutes on each side for a total of 30-40 minutes. Helpful tip:
Let the tortilla cool for 3 mins before carefully flipping it over to the other side
to bake; this cooling process will keep the tortilla from breaking apart.
Once the tortillas are fully baked, take out of the oven and let cool for
another 2-3 min. Then evenly sprinkle 1.5 oz (~1/4 cup) of cheese to one tortilla
and add the other tortilla on top. Repeat this to generate with the remaining
to pieces of tortillas.
Turn the oven down to 300F, put the quesadillas into the oven for 2-4 min
until the cheese is fully melted. Let cool another 2 min and serve with salsa.
For the salsa, mince the tomatoes, onions, and cilantro. Mix these
ingredients with the spices and lime juice. Serve with the quesadillas.