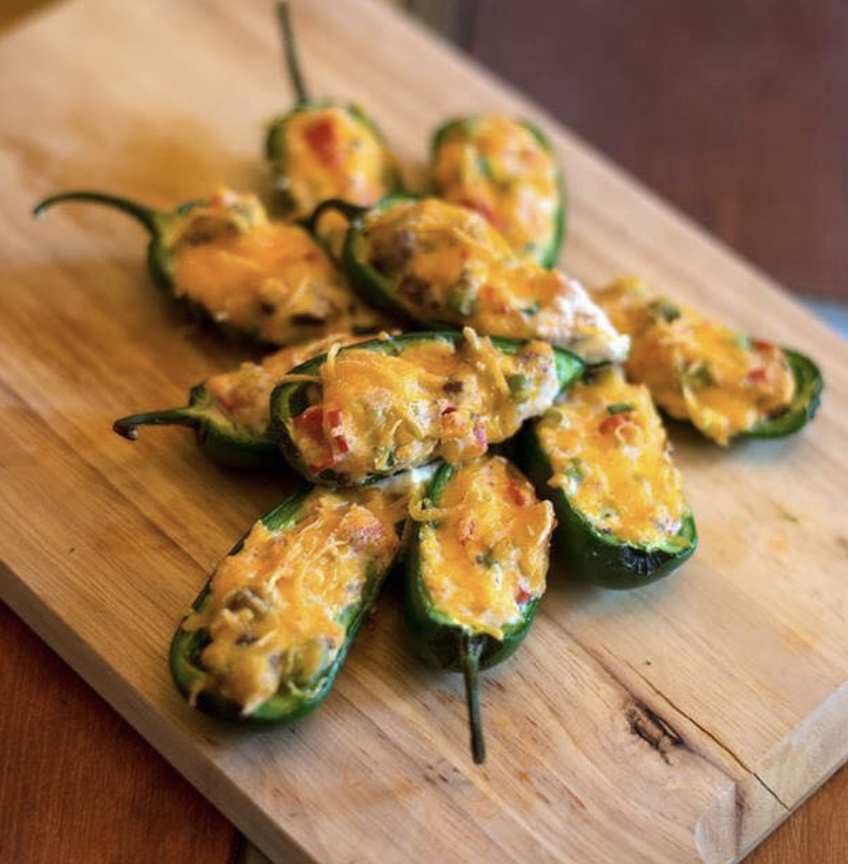 Makes 2 servings
Per Serving: 1 Leaner, 3 Green, 11⁄2 Condiments
Ingredients
• Cooking spray
• 4 oz 95-97% lean ground beef*
• 6 whole jalapeño peppers
• 4 oz (1⁄2 cup) low-fat plain Greek
yogurt
• 4 oz (1 cup) shredded reduced-fat
sharp cheddar cheese
• 3 medium scallions, sliced thin
• 1 large red bell pepper, diced fine
• 1⁄4 tsp garlic powder
• 1⁄4 tsp cumin
• 1⁄4 tsp chili powder
• 1/8 tsp paprika
• *To make vegetarian, substitute
beef with 1 cup cooked
MorningStar Farms®
• Sausage-Style Recipe Crumbles.
Directions
Preheat oven to 350° F. Lightly grease a baking sheet and set aside.
Cook ground beef in a non-stick pan over medium-high heat until
done (internal temperature of 160°F). Set aside.
Cut jalapeño peppers in half lengthwise.
Remove seeds and membrane.
Combine beef, yogurt, cheese, scallions, red pepper, and spices in
a medium bowl.
With a spoon, fill jalapeño pepper halves with cheese mixture.
Place the peppers, cut-side up, on the prepared baking sheet.
Bake for about 20-25 minutes or until golden brown.
Remove from oven and serve immediately.