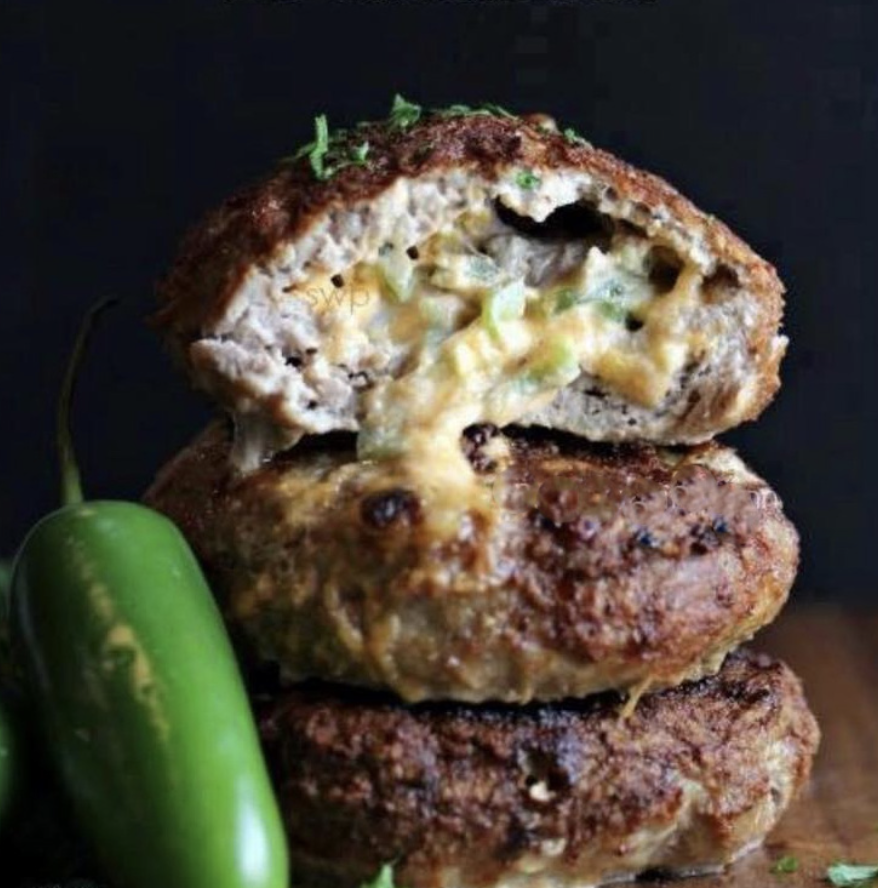 Makes 4 servings
Per Serving: 1 Leaner protein, 1 1/3 condiment, 3⁄4 fat serving
Ingredients
• 28 oz lean turkey or beef (not extra lean)
• 2 tablespoons finely minced onion
• 1⁄4 tsp salt
• 1⁄2 tsp pepper to taste
• 4 tablespoons low fat cream cheese
• 2 oz. shredded cheddar cheese
• 1⁄4 teaspoon garlic powder
• 1 fresh jalapeno pepper, diced (seeds re-
moved if you prefer less spice)
• 1 tablespoon olive oil
Directions
Preheat grill to medium or oven to broil on high.
In a small bowl combine cream cheese, cheddar cheese, garlic powder and
diced jalapeno.
Combine meat, salt & pepper and minced onion. Divide meat into 4 even
pieces (7oz each). Take 1⁄4 of the cream cheese mixture and flatten it into a
pancake shape. Wrap beef or turkey around the cheese ensuring the cheese
mixture is completely covered. Brush each burger with a little bit of olive oil.
To Grill
Grill burgers over medium heat for 6-7 minutes on each side or until
completely cooked. (Turkey should reach an internal temperature of 165 degrees
and beef should reach 160 degrees.)
To Broil
Place burgers on a foil covered pan approximately 6" from the broiler.
Broil 5-6 minutes on each side or until completely cooked. (Turkey should reach
an internal temperature of 165 degrees and beef should reach 160 degrees.)