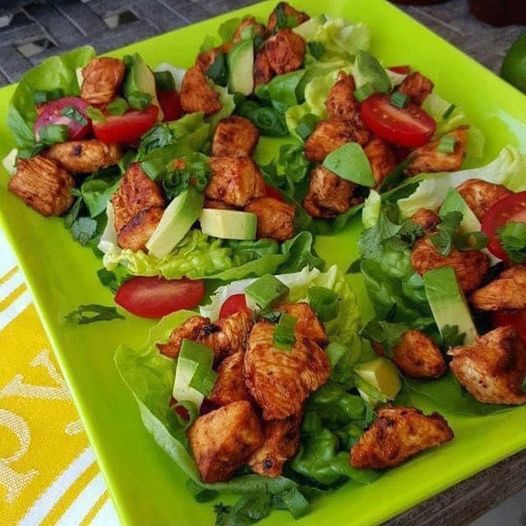 Ingredients
2 lbs chicken tenders
diced
olive oil
lettuce for wraps
grape tomatoes
avocado
green onion
cilantro
lime
Marinade Ingredients:
Juice of 2 fresh limes- about 2 Tbsp
2-4 Tbsp Sriracha sauce-or more to taste
1 Tbsp raw honey (optional)
1/2 tsp garlic powder
2 tsp ground cumin
1/2 tsp chili powder
1/2 tsp sea salt
1 Tbsp water
1/2 Tbsp olive, or avocado oil
Instructions
1. Combine marinade ingredients well.
2. Place in medium glass bowl (cover), or gallon ziploc. Add diced chicken tenders.
3. Marinate 4 hours, or overnight, refrigerated, turning to coat occasionally.
4. Cook chicken in large, med-high preheated sauté pan, with 2 tsp olive oil.
5. Sauté uncovered until cooked through and outside is crispy. About 6-8 minutes.
6. Serve immediately on butter lettuce leaves with; tomato, avocado, green onion, cilantro, and fresh lime wedges.
Makes 4 servings: Per serving 1 leaner, 3 greens, 1 healthy fat, 2 condiments
Enjoy