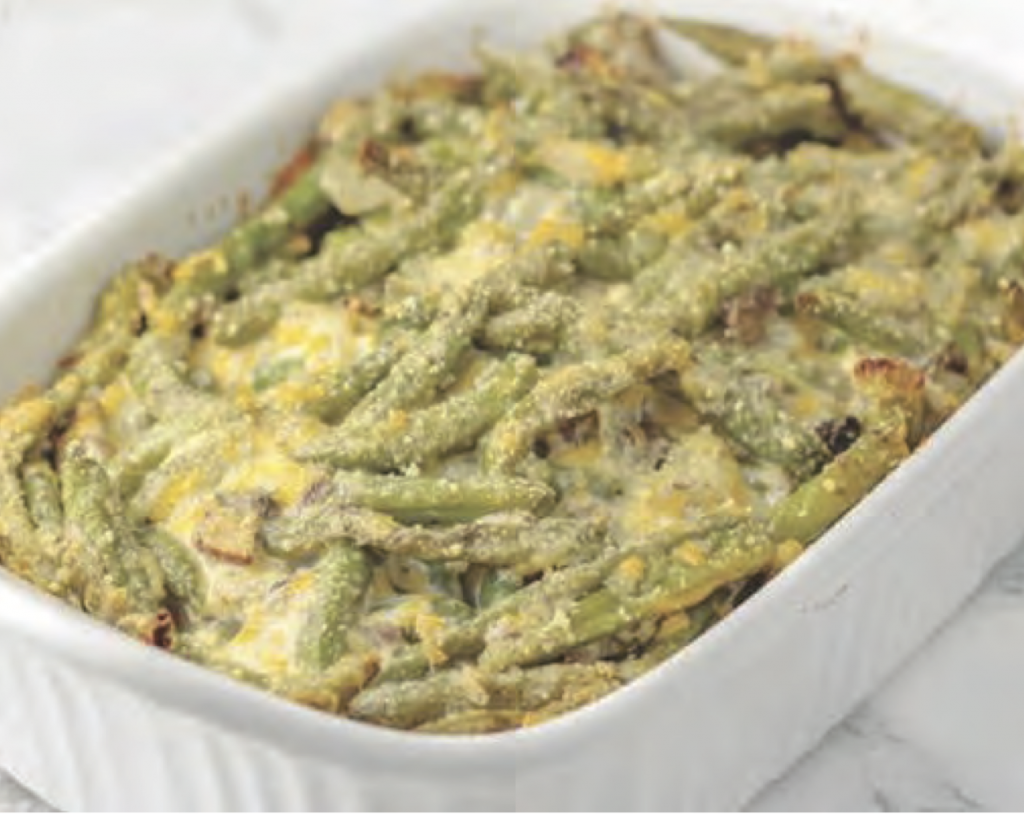 INGREDIENTS
– 1, 16-oz bag frozen whole green beans – Cooking Spray
– 2 cups mushrooms, chopped
– 1⁄4 cup diced yellow onion
– 1 clove garlic, minced
– 3⁄4 cup nonfat plain Greek yogurt – 1⁄4 cup reduced-fat sour cream
– 1 tsp cornstarch
– 1⁄2 packet stevia
– 1⁄2 tsp salt
– 1⁄2 tsp pepper
– 1⁄2 cup reduced fat shredded cheddar cheese – 2 Tbsp grated parmesan cheese
DIRECTIONS:
Preheat oven to 350F.
Microwave green beans according to package directions.
Lightly grease a medium-sized skillet, and heat over medium heat. Cook mushrooms, onion, and garlic until tender, about 5 to 7 minutes. Combine mushroom mixture with green beans in a medium-sized bowl and let cool.
Meanwhile, combine Greek yogurt, sour cream, cornstarch, stevia, salt, and pepper in a small bowl. Toss vegetable in sauce mixture until evenly coated. Add cheddar cheese and mix until well combined.
Spread into a lightly greased baking dish, top with parmesan, and bake until topping is golden brown, about 30 to 25 minutes.
Lean & Green
Makes 4 Servings. Per serving – 1⁄4 leaner, 3 green, 1⁄2 healthy fat, 3 condiments.