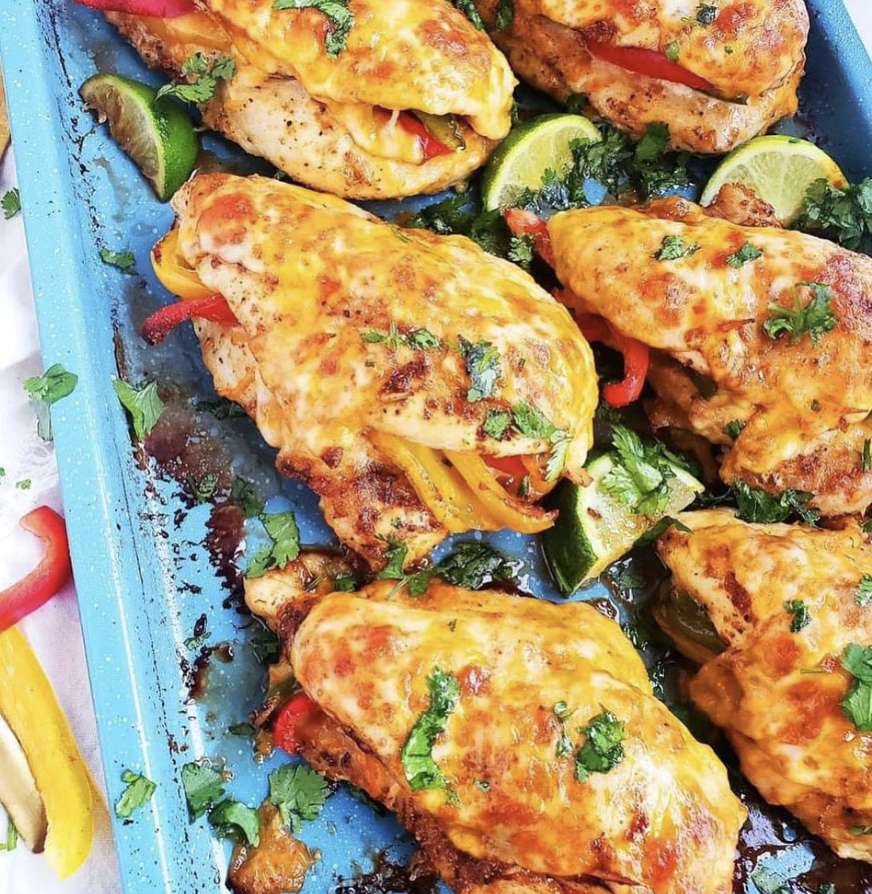 Makes 8 servings Per Serving: 1 Leaner protein, 1 vegetable, 3 condiments, 1 fat
Ingredients
Non-stick pan spray
1 red pepper, diced
1 green pepper, diced
1 yellow pepper, diced
1 cup green onion, diced
1/2 teaspoon kosher salt
1 teaspoon f reshly groundblack pepper
4 ounces low fat cream cheese
1 cup shredded low fatcheddar cheese
1 cup diced low fat pepper jack cheese
3 1/3 pound boneless skinless chicken breasts
1/2 teaspoon salt
1 teaspoon chili powder
2 teaspoons cumin
1 teaspoon garlic powder
2 Tablespoons canola oil (for chicken)
3 tablespoons Salsa
Directions
1. Heat the canola oil in a pan over high heat. Cook the peppers, onion, salt, and pepper until soft and slightly caramelized. Transfer the cooked veggies to a bowl.
2. In the same bowl, mix in the cream cheese, cheddar, and pepper jack, stirring until evenly incorporated. Set aside.
3. In a separate bowl, combine the chicken with the salt, chili powder, cumin, and garlic powder, evenly distributing the spices over the chicken.
4. On a cutting board, slice a pocket in the chicken horizontally and fill the pocket with a heaping spoonful of the veggie mixture. Press the edges of the chicken together to seal in the filling. Repeat with the remaining chicken.
5. Heat the canola oil in a non-stick pan over medium heat. Cook the stuffed chicken for five minutes on each side, until cheese is melted and chicken is cooked through.
6. Serve with salsa.